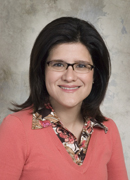 Ana M Palacio
University of Miami, Miller School of Medicine
1120 NW 14th St, Suite 967, Miami, FL 33136, USA
Tel: 305-243-9754
Fax: 305-243-7096
E-mail: APalacio2@med.miami.edu
Dr .Ana M. Palacio, MD, MPH is Associate Professor of Clinical Medicine and Director of Latin American Programs of the Department of Public Health Sciences at the University Of Miami Miller School Of Medicine. She is also Co-director of the Resident Scholarly Activity Program and a practicing general internist affiliated with the Miami VA Medical Center. Dr. Palacio is currently leading an initiative to establish collaborations in Latin America for educational and research purposes. The approach selected is to establish meaningful partnerships that allow for technology transfer and capacity building. Her personal research has focused on the development and evaluation of innovative approaches to reduce medication adherence barriers and to trigger health behavior modification among subjects with chronic conditions, with particular interest in cardiovascular diseases. Her methodological strengths include the integration and use of mixed sources of data to evaluate outcomes in large populations, the implementation and evaluation of quality improvement interventions in real world settings particularly racially diverse ones and the design and implementation of comparative effectiveness clinical trials.